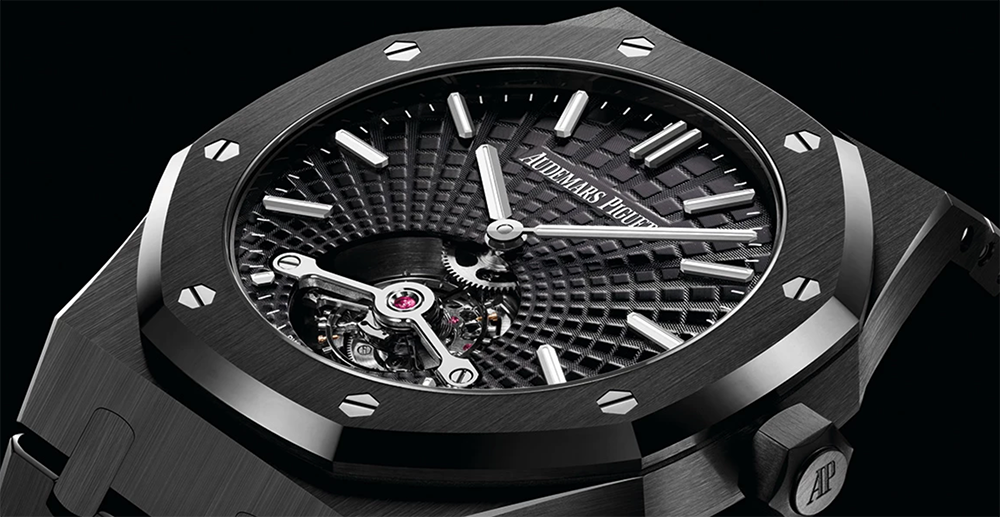 After several years of relative conservatism, there seemed to be a breath of fresh air circulating through the halls of the Salon International De La Haute Horlogerie (SIHH 2019) in Geneva this past week. Though the offerings presented were still a fair mix of technical updates and all-new creations, a significant volume of noteworthy releases have hit the market that have enthusiasts and collectors excited this year. Having taken a few days to digest this broad list of new watches, we've compiled a list of 14 favorites ranging from practical and (relatively) affordable daily-wear offerings, through to the year's most cutting-edge creations.
Ulysse Nardin Freak X
The Freak has been a core element of UN's collection since 2001, and a prominent means of showcasing their design and engineering prowess. Adding a new model wouldn't generally be noteworthy, however this is no ordinary new model. For the first time, Ulysse Nardin has developed an "entry level" variant dubbed the Freak X, priced at $21,000. The titanium-cased tourbillon isn't really entry level for most, but considering last year's Freak model was $95,000, there's a big difference here. It uses a conventional crown rather than the clever time setting via its bezel, and it uses a silicon balance wheel, but not the silicon hairspring seen in its more high-tech sibling.
Vacheron Constantin Traditionelle Twin Beat Perpetual Calendar
Conservative as it looks, this watch truly is the game-changer of 2019 so far. A perpetual calendar is a fantastic mechanical watch that can automatically track days of each month and leap years to keep its calendar indications accurate, but its biggest flaw is power reserve. Conventional ones will run for 40-ish hours at a time, so if you swap watches for a few days (or weeks) you're going to have to fuss with resetting the damned thing. Enter the Twin Beat — a watch with two balance wheels that run at different frequencies.
Running at 5Hz (when on your wrist), it will run for 4 days, but set it to "standby mode" and it will run at 1.2Hz and maintain its power reserve for 65 days. Mega power reserves have been done before in large, chunky, awkward cases, but the fact that Vacheron managed to accomplish this in a case that's only 42mm in diameter and 12.3mm thick is absolutely incredible. It's priced at $199,000, but groundbreaking watchmaking always comes at a premium.
Christophe Claret Angelico
A master of complex watchmaking, Christophe Claret's last home run (the Maestro) landed two years ago, and it seems the DNA of that creation has carried forward in this latest release of the Angelico. At its core, what makes the Angelico as fantastic as its predecessor is the use of remarkably three dimensional movement architecture covered by a dramatically domed crystal. Claret used what is called a long detent escapement in combination with a tourbillon for the first time in a wristwatch, and his interpretation of a fusée transmission system from the mainspring to the geartrain uses a cable rather than the microscopic chains we've seen from other brands in the past. It will be limited to 10 pieces in gold and 10 in titanium.
Jaeger LeCoultre Master Grande Tradition Gyrotourbillon Westminster Perpétuel
Its name is a mouthful, but a watch this complex deserves complex nomenclature, no? Kidding aside, this thing is epic. Not only is it a beautifully executed perpetual calendar — with partially exposed inner workings and a gyrotourbillon (a tourbillon that rotates on multiple axes) — but it also boasts one of the most complex chiming mechanisms out there (a westminster chime). When active, the watch will mechanically chime an indication for the quarter, half, and full hours (using four different gong tones), and it can also be triggered on demand if you would like to hear what time it is. For clarity, you can see and hear it in action in this video.
HYT H0 "Time Is Precious"
Known for their ingenious system that uses fluid to indicate the present hour, HYT's latest and greatest —known as the H0 "Time Is Precious" — is not a new model, but rather a very clever interpretation of a previous release. A fragmented/shattered mirror dial rests just below its large raised sapphire subdial that indicates the current minutes, and while bright red fluid is used to indicate the hours, the balance of the watch is devoid of color — right down to its translucent rubber strap.
Ressence Type 2
Similarly unorthodox in terms of design, Ressence watches also display time in very unique fashion. That said, this is not the new and exciting part of their SIHH 2019 release. What blew people's minds this go around was the arrival of the production version of the Type 2, and the brand's patented e-Crown. Though the movement powering the this unique timepiece is still mechanical, the e-Crown takes over the role of a conventional watch crown (used for setting the time) and further enhances its function. It can automatically adjust to different time zones, regulate and adjust current time should it run fast or slow, or even allow forced setting of other time zones via the brand's proprietary app. This may be the best integration of technology into traditional mechanical watchmaking we've ever seen. Sadly it doesn't come cheap though, as the Type 2 is priced at $48,800.
Cartier Santos Skeleton Noctambule
Since a recent refresh, many a watch enthusiast have been falling back in love with the Cartier Santos collection, but even those less interested in the legacy jewelry house will have a hard time ignoring the new Skeleton Noctambule. Rather than using a dial of any sort, Cartier's designers chopped up the movement's mainplate to create oversized Roman numerals and other indices. With its stainless steel case finished with a black ADLC coating, where the piece really shines is in the dark, as a masked coating of Super Luminova reveals a brilliant glow. Powered by an in-house mechanical caliber, the Cartier will set you back $26,800.
IWC Pilot Chronograph Top Gun Mojave Desert
IWC has dabbled with ceramic cases plenty of times, but this military-inspired tone-on-tone Mojave Desert variant of the Top Gun chronograph is easily one of their home runs of 2018. AS part of a significant refresh of the pilot collection (which now all feature in-house movements), the desert sand ceramic casing stands out dramatically from the black ceramic and bronze models IWC also launched this year. Black ceramic and bronze are available from several brands out there these days, so we appreciate seeing the brand being a bit unconventional.
A. Lange & Sohne Zeitwerk Date
To be frank, the staunchly German traditional watchmaker left a bit to be desired overall at SIHH 2019 this year, as the balance of their offerings (including the highly anticipated 25th anniversary edition of the Lange 1, which showed up as a silver dial with blued hands and indices) were purely dial and hand tweaks. To be fair, they did launch a triple-split chronograph last year (an epic feat) so we can't judge too hard. Of the pack, this simple yet extremely clever addition of an outer perimeter date indication is a very nice touch for the otherwise unique Zeitwerk, proving that on rare occasions small changes can have a major impact.
Panerai Submersible Collection
Rather than focusing on a single piece, there are a few too many great details about Panerai's development of the Submersible line for 2019. On one hand, the Submersible Guillaume Néry and Submersible Mike Horn editions are not only fantastic watches on their own, but their sticker price also include real-world expeditions (diving with Néry and an expedition with Horn). The assortment of Carbotech models is also nothing shy of fantastic, and FINALLY includes a 42mm variant of the Carbotech Submersible for those who like the Panerai aesthetic but can't stomach the 44 and 47mm case sizes typically on offer.
Bovet Récital 26 Brainstorm Chapter One
Bovet has done a lot over the years in terms of innovative and boundary pushing, yet the Récital 26 Brainstorm Chapter One is the brand's first foray into sapphire watch casings, and trust us when we say it's a good one. Sapphire remains incredibly difficult to machine and shape, and yet Bovet's design and manufacturing team found a way to safely execute this elegant sloped case profile with ease. Its indications include a moonphase, big date, and power reserve, and between these functions and its flying tourbillon mechanism, there is a ton of mechanical complexity to admire in this piece, and its special casing allows for an unobstructed view.
Audemars Piguet Royal Oak Tourbillon Extra Thin Ceramic
If you've been following the SIHH 2019 watch announcements you know AP has been taking huge heat over their new Code 1159 collection (a whole story in and of itself), but they still brought a few solid and noteworthy items to the table, including a ceramic version of the Royal Oak Tourbillon Extra Thin. Featuring an openworked flying tourbillon framed by a sleek deviation of their "tapisserie" dial, we don't doubt that this model will be in equally high demand as the ceramic perpetual calendar the brand launched in 2017.
Montblanc 1858 Geosphere Limited Edition
An extensive use of bronze paired with green dials is keeping Montblanc very much on-trend in 2019 as both the unorthodox alloy and the vibrant dial color have become immensely popular of late. Flanked by several siblings including chronographs and simple 3-hand models, the Geosphere is a unique take on the world-time complication that uses small three-dimensional globes to indicate the world's time zones. Personally I find this setup to be novel yet slightly impractical in the real world, but from a strictly visual standpoint the Geosphere is an incredibly handsome watch. At 42mm in diameter and 12.8mm thick, it's a good size for a casual watch as well–chunky without being overbearing.
Roger Dubuis Excalibur Huracan
Expanding on the brand's blossoming partnership with Lamborghini, the Roger Dubuis Excalibur Huracan is the latest addition to the heavily supercar-inspired line. Once again a unique caliber has been developed for the occasion, this time with a 12-degree inclined balance wheel, twin mainspring barrels delivering a power reserve of 60 hours, and unique bridge design that resemble the cross braces inside the Huracan's engine bay.
Comment below or I will lose my job.