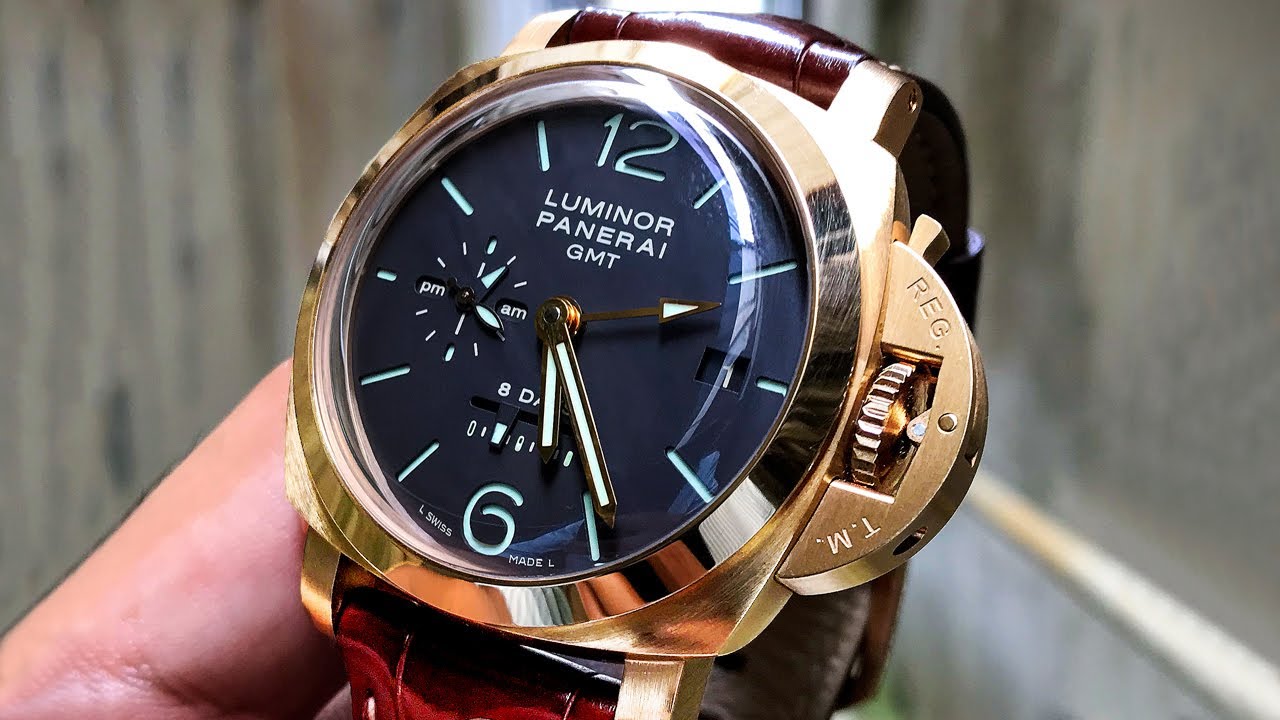 Today I'm going to be doing a review on the Panerai Radiomir. So, in the Panerai world, there's two distinct models that are always going to catch your attention. One being the Luminor series, which in that Luminor series is a couple different subcategories, but the other one that immediately stands out just like the crown, is the Radiomir. The Radiomir is the original Panerai design.
For those of you that are new to the Panerai game and don't too much about it, Panerai is a watch that was developed in the World War II and it was for the Italian Frogmen, which are pretty much the Navy Seals of the Italian Army at that time and they needed a watch that would give them lots of visibility in low light conditions like underwater and that's where the engineers came up with this very easy-to-read dial that pretty much almost every Panerai has, except for some of the variations that they came for more modern times. But overall, Panerai has kept that tradition of that design throughout its history. Now, the Radiomir is a design that's very vintage looking.
It's got this exposed crown that looks like it just grabs anything, you're going to rip it right off, which you never know, maybe that's why they over engineered the Luminor with that crown guard. There's no way you're going to rip that off. But, another thing you notice is that the lugs, it's almost like a wire set lug. You know, very weak looking. But, remember, this is designed from back then, which has honestly to me proven the test of time. For me, the Radiomir is an iconic watch in the Watch World. And for those of you who are maybe starting out in the Watch Game, the Radiomir has so many different levels that I'm sure there's one in there that will fit your like or need or budget as well.
As I was mentioning in my last Panerai video, Panerai is a brand that doesn't give you everything in one watch. Like for example, maybe like a Submariner that has a little bit of everything…automatic movement, sub-seconds, days, rotating bezel, all that type of stuff. Is the same thing with the Radiomir. Depending which one you get, it's going to have clear caseback or it's not, or it's going to be automatic, or it's going to be manual wound, but there's a lot of different ones in there.
There's a lot of different case materials. You got stainless steel. You have ceramic. You have rose gold. You have yellow gold. I for one, really like that ceramic, Black Seal. To me that's one of my favorite models that they have. It's a very simple watch, but it just looks very nice on any colored strap you can put on there. But one of my all time favorite models would also be the very base model Radiomir. Very simple design. I love the suede strap. For some reason, that's the one that I've always had.
Any time I've ever owned a Rad, it's always had a suede strap. Just for me, I just like the way it looks. So for you guys that are out there trying to maybe figure out what kind of Panerai you're thinking about getting into, do your homework. There's a lot of different models. Try to see which one you like. They go in range anywhere from 45mm to 47mm.
It's crazy how those 2 millimeters makes a huge different. This one looks a lot bigger. This tends to be a way higher end model. Another plus that the Radiomir has is that also you can hipster it out and dress it down, but you can also dress it up. So, with that whole classic look to the watch, it also looks very dressy if you want it to be. One of the advantages that the Radiomir has. One important thing that I want to tell you about the Panerai Radiomir is, one of the most popular things and that Panerai has is that you're able to change the straps all the time.
For me, that's one thing that always attracted me from the beginning. I'm able to change straps, so you get to get a bunch of different straps. In the Luminor models, they eventually had a one that pretty much had a pin pusher mechanism that you're able to do a quick change on a strap. Now, one thing I want to tell you up front is the Radiomir is a very delicate watch to change the straps. That's the first thing that I do is, I grab the loupe and I look at the screws.
These watches have very small screws that could hold the strap and in my honest opinion, if you're are not a very handy person and are not very still with the screwdriver, I would let a watchmaker change the strap for you…whereas the Luminor, to me, I encourage strap changing because it's just so much easier. But, like I said, if you're thinking about getting a Panerai and you're eye-balling the Radiomir, keep in mind that to change the strap on the Rads is not as easy as the Luminor.
Now, as far as the Watch Game goes, I see the Panerai Radiomir as a mid-level watch. Yeah I know they got some really high end ones. They got some rose gold ones with all the bells and whistles and I respect them. I do like them. I think it's a watch that looks…this rose gold one right here, would look really good with a really nice outfit…something sports coat, something really nice stuff to go out. It's going to look fantastic. So it's a watch that can definitely complete an outfit. In the Watch Game, it definitely has status, but again, I feel that's just kind of in the mid level range and when it comes to the Radiomir, there's nothing wrong if you wanna go a little bit all out and get yourself a rose gold one, I tend to stick more to the ceramic and the stainless steel ones.
I think they're just fantastic daily wearers or just to put around a little bit with the watch. Just to have some fun and it's definitely also a very entry-level, beginner Panerai if you're thinking about maybe perhaps buying your first Panerai.
Do you own a Panerai? Do you love them? Hate them? Let us know!