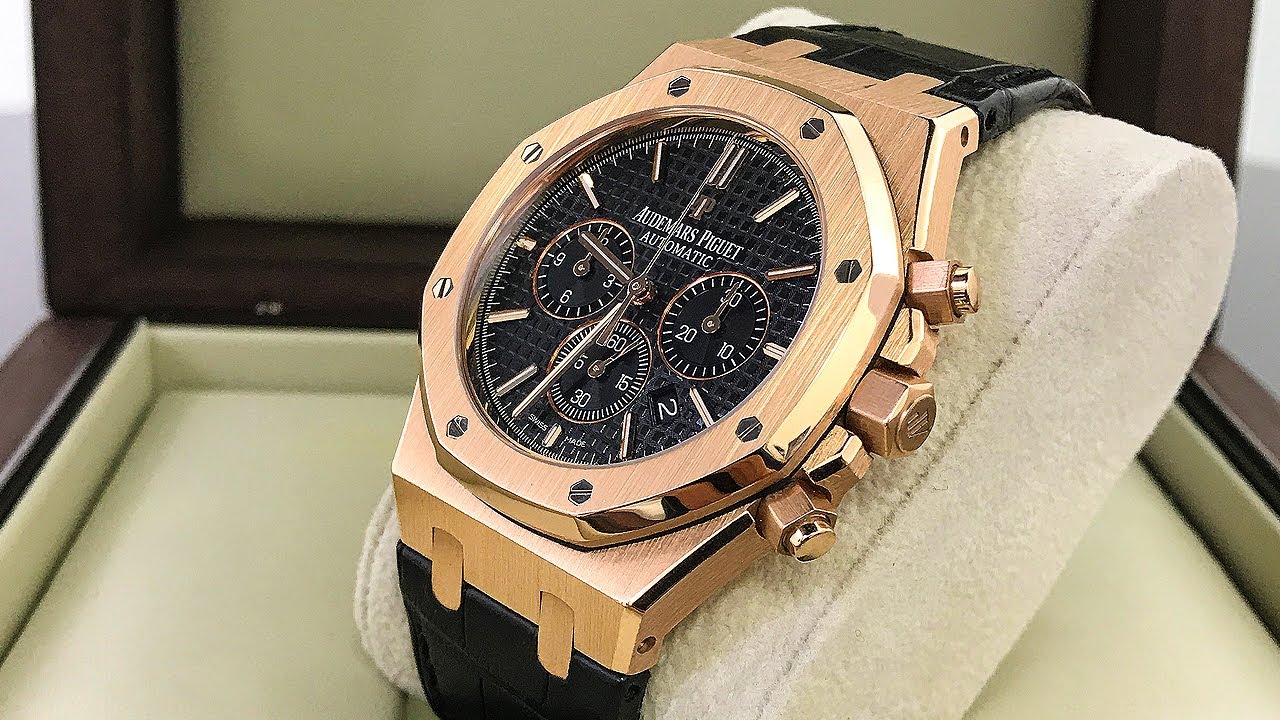 Today we talk about the AP 41mm Royal Oak Chrono in rose gold.
So, the Audemars Piguet Royal Oak Chrono is the watch that, for me, just has the most style and look for the money. I've done a review on this model in the past in stainless steel and I expressed that my favorite one is the rose gold in black.
I have both models. One on a strap and one on a bracelet. I like them both equally. I'm going to talk a little bit about them. But for me this is probably my favorite watch. At first, when I first got into AP, I kind of tended to be lean more towards the Offshore and, don't get me wrong, I love the Offshore, but after a little while is when I really got to appreciate the Royal Oak line… especially the Chrono. For me, it's just very dressy, but yet extremely sporty, so it's right in the middle. I have people requesting for me to do videos of this particular watch versus the 5980 rose. I think it'll be a difficult video for me to do just because I like them both and they're both two different things. And yes, the Nautilus is more money, but I don't know why I just feel like this has more…it's more of an aggressive look to the watch.
In the Watch World, I would say this is a sports car. Maybe not an Aventador, but this to me is a 911 Turbo S. There's just no other watch that I think I can put on that just has so much look for it. It's just got a lot of…I'm a person that I like a lot of…I'm a lines person. I look at the lines of things and this watch just has so much style to it that, for me, it's really what gets me. Now, yes this model comes in stainless steel. We've talked about it in the past.
This is the rose gold version. And in the rose gold version, you can get it with a white or silver, kind of like in between…or the black dial. Both of them are amazing and that's why they have two for you to choose from. Me, personally, I would rather have the black dial. I just feel like it has more of a contrast with the rose, although the white dial tends to look a little bit more dressy. As far as the Watch Game goes, I just don't see a watch that's…this watch, what it says to me, it's just nothing more than a statement.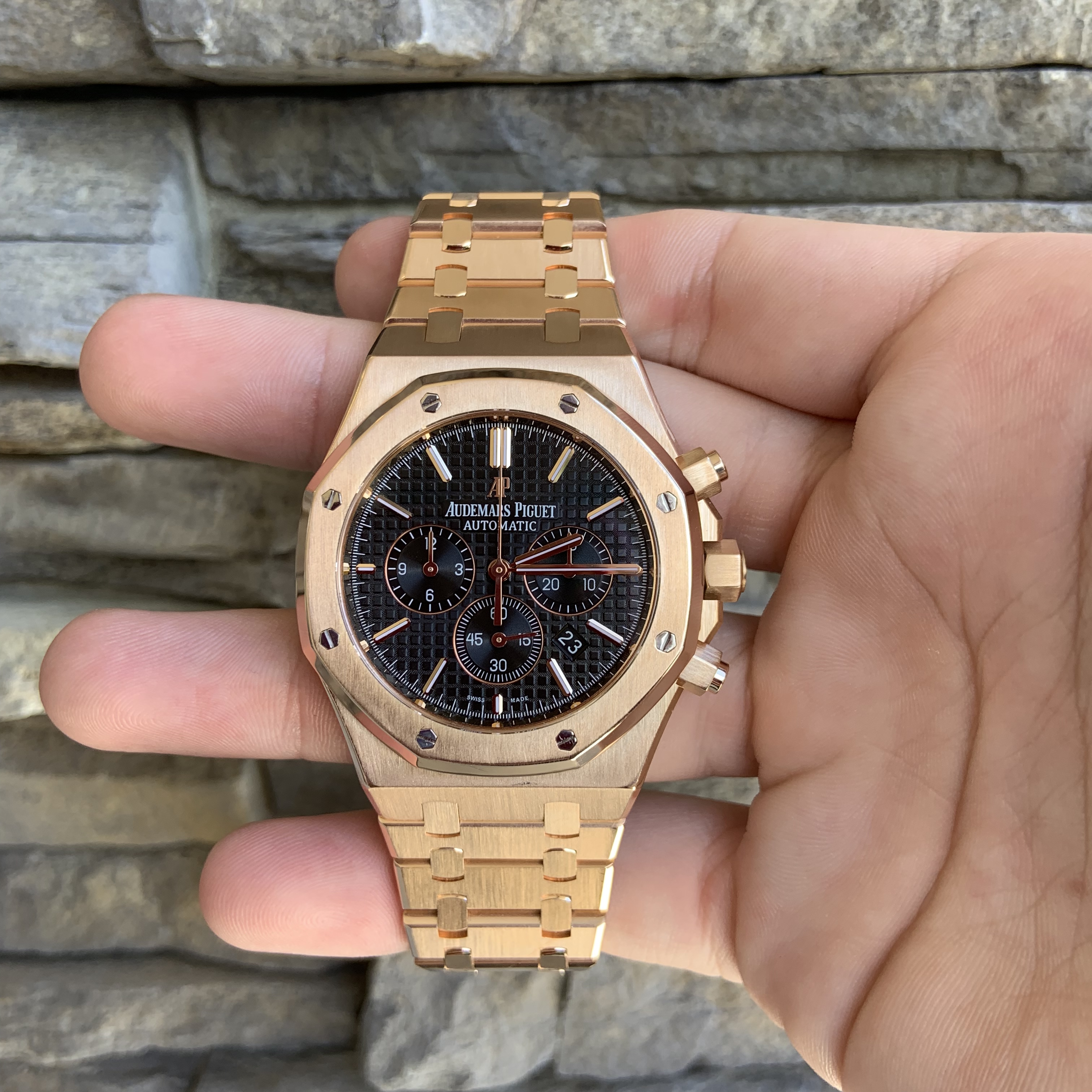 It says, 'Man! This guy's got taste!' Because a lot of people would probably go more for the Offshore or other watches. Believe it or not, at the store that's something I do as a test. I ask clients, just to kind of get a feel for what type of watches they like and what they're leaning more towards. I always ask "What do you think about the Chrono and do you like it?"
That also let's me gauge what type of style they like. What type of watch they're trying to find. Something like this… this particular model, if you're trying to get one in the pre-owned range, you're going to easily be in the $41,000 range. Unworn, you might get lucky and pick one up in the mid 40's. This watch retails for $55,000 and there's not a lot of them around. It's high in demand and most of the AP boutiques only have one available.
I want to say that I can sell three white dials for every one black dial that I sell. Now, we're going to go to the leather strap version. I mean, Jesus, when you don't want to be so loud, how about that strap though? You know? Ideally, the ideal scenario for me, would be to have this model right here, 41mm, rose gold, on the bracelet. And then I would go to the boutique and buy the strap, with the deployment clasp and the adapter. Then I would now have two watches in one, because I'm sure you can probably buy a bracelet for it, but Jesus Christ, who wants to do that? I would probably feel more comfortable buying the version on the bracelet and then adding the strap; then you would have both watches in one. I mean, how do you like my ideal scenario? But I can't stress enough. I can probably go into a full, long tirade on how much I like this watch.
The bracelet is really something that I love. I love the Royal Oak line bracelet. And imagine, you can expect to pay in stainless steel and in rose, easily…in rose version, you're going to pay around $10,000 more for the bracelet. So, if you're looking for a watch that's got heavy ranking, has a higher resale value, and has overall just some of the best styles and looks of any watch in the game, my opinion to you is, deeply consider any of the version available of the Royal Oak Chrono.
Can you identify this watch? Include the brand, model, style, modifications and links in your comments below!