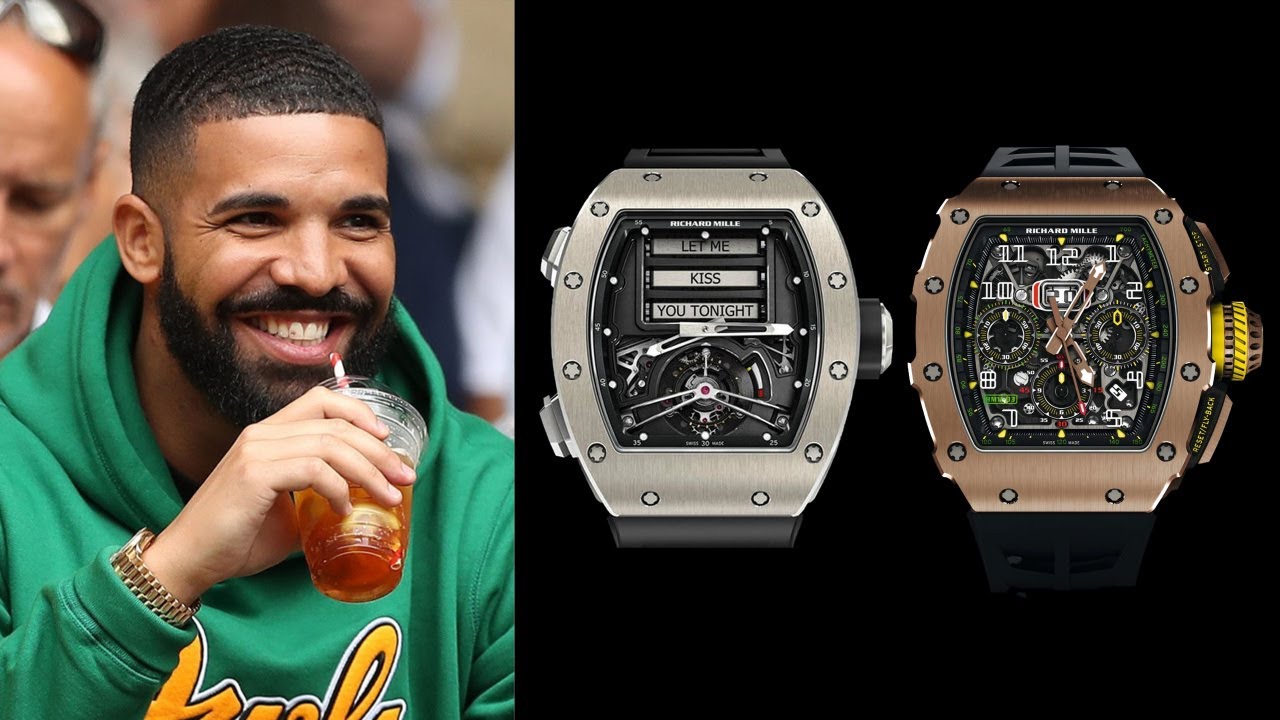 I remember back in 2010, Drake was with the whole Young Money Crew and all that for a Spring Break performance for MTV. That was pretty much early in his career, almost the start and I realized that he had on a rose gold Hublot Big Bang with the rubber strap, ceramic bezel. And at that time that was had just broken out into the scene and it was hot.
But it was a very interesting choice by him at that time because that was a time when rappers were opting to have more of the AP Offshore in steel with diamonds, you know? Stuff like that was breaking out. There was still the Breitling Super Avenger with a lot of diamonds as well, but he opted to go with that Big Bang in rose gold, which always caught my attention and I always remembered that since the beginning of his career. So I guess the question is also like, do I mess with Drake's music, I mean, yeah I mean the guy's got talent. He knows what he does. Anybody that says they don't like a Drake song, think they're just hating and they just straight up lying, OK? All these people are the same, they don't like Drake's music, it's like, then you catch them in the club like totally vibing to a Drake son, you know? I mean the guy has a machine gun clip of hits, you know? Some of those gotta vibe good with someone of you all.
I mean, at the end of the day when you got that much consistently good content, of course he's good, you know? I don't know if he's the best of all time, but he definitely is good at what he does. So as the time went by, I sat there and watched him get different watches and, you know, nowadays there's guys like shout-out to Celebrity Watch Spotter on Instagram where he will show you a picture of the celebrity with the watch, so it makes it a little bit easier to see what they have, but then I saw the last couple of watches that he has that he has come out with were pretty intense, so I figured you know what, it's time we go over this guy's collection. So as far as AP, look, I'm sure he's got a ton of watches that were not seen or he might not be even wearing, or perhaps maybe he even traded, but with APs he's got a 39 millimeter rose gold ultra-think tourbillon, classic watch, very classy watch.
I think it fits him well. He's got a 41 rose, black dial on a leather strap, non-chrono, very basic in my opinion for someone of his level, but nevertheless still iconic watch. He's got that 48-mm APT3 which I terribly hate that watch, the same watch that Connor McGregor has except Drake's is white gold with the diamonds. I mean, I get it. It's all factory drip, but I'm not crazy. Now, the one that stands out to me the most that I can see he has is the 44 millimeter forged carbon tourbillon. That's a good looking watch. You see, that one grabbed my attention.
Two-hundred and fifty pieces made in the world. It's definitely something special. You know, no collection is without a whole bunch of Rolexes. He's got easily three or four Daytonas, everything from a yellow gold Daytona with the Paul Newman dial to a yellow gold with an MOP diamond dial, all the way to rose gold with baguette dial, so on and so forth. I mean the guy's got several Rolexes, you know? He's got one particular Day-Date that stands out, which is a yellow gold 41 millimeter with a factory diamond dial and the baguette bezel, heavy hitter with that baguette bezel, I mean it's hard to find and the bezel alone it's got like $35,000, $40,000 in surcharge just in the bezel along.
Of course he's got a couple of Sky-Dwellers with some yellow gold Yacht-Master II's, but he does have a GMT 116758, which stands out, which has the factory diamonds on the bezel. I love that watch. Great looking watch and is a special watch, you know that Rolex makes that's got factory ice. One of my favorite watches from Rolex with factory diamonds. So, it's obvious Drake likes haute horology, I've noticed that from the beginning, but it's really with the Richard Milles that like I just feel like he really broke out and has some serious heavy-duty pieces. He's got the RM 11, the last edition. I'm not crazy about that watch guys, but it has a high resale value. It's got the blue ceramic.
It's got the Kentucky blue with the ceramic case and the blue strap. It's a good looking watch. I just don't know how I feel about an entire baby blue watch, but then again if you're gonna be like Drake where you have easily ten to fifteen Richard Milles then why not? I wouldn't make it my own Richard Mille, but it's definitely a nice one. He's also got the RM 11-03 rose gold plane Jane, can't go wrong with that.
And he's got the RM 11-03 with the factory pave diamonds. Great choice. If you're gonna have something like that, I mean might as well go with the factory ice. I haven't seen anybody yet still bust down an RM 11-03, but give it enough time. Some of the boys up North will make it happen. Now, he's got an RM 35 Baby Nadal which I kind of like and you don't see too often. Another thing this guy has is the RM 55 all-white Bubba Watson, which is actually one of my favorite watches when you're talking about all-white. Also before I forget, he's also got the RM 55 Bubba Watson, but the one that's in the black NTPT case with the factory diamond set on it, rose gold sides as well. That's a great looking watch that you don't see a lot. You know, Richard Mille is always doing these things that go over the top, I mean they have a carbon watch that has diamonds set on it.
How complicated is that? Probably extremely complicated. Before I say my favorite watch that he has, I also want to point out that he's got this interesting watch, which I'm not crazy about. Maybe it was just for that one night, but he comes out in a picture wearing a suit, turtle neck and all, you know in Drake fashion, and he's got this RM 07-01. I don't know how I feel about that. That's a woman's watch, OK? Small case. It looks like it's got a Cuban Link bracelet, all iced out.
I'm not crazy about that watch man. I think you got enough watches out there that, I don't know man, I don't know if it's one of those RM's where they haven't really said if it's a woman's watch or a man's watch. I'm not crazy about it. I think you got enough watches that are serious that you could skip that one. Now, on to more of my favorite watches.
My two favorite watches that Drake has is the RM 69. It's a tourbillon that has a God-damn button on the side, has a whole scrolling marquee that says different messages and all these sexual topics, definitely a hot watch, I mean common! Very fitting for him as well, but the one that caught my attention the most, which is kind of when I saw it and I said, 'Alright, let's do something about Drake.' Now, I have a hard time finding a picture of it, but I know I saw it. He has an RM 35-01, which is the Nadal last edition which comes in the all-white NTPT. That is a hot watch. When I saw him wearing that, I said, 'Damn! This guy is really about that life!' So you know, not that the Richard Milles that he has is what makes him have the hardest collection. It's just he's really dived deep into it. Of course he has Pateks. I saw him the other day wearing a 5980 all rose bust-down at the NBA Finals game.
Of course he's gonna be wearing Pateks. Of courses he's got some of these new ones with the whole baguette stuff, but I feel that what makes the bulk of his collection strong is his obsession or newfound obsession with Richard Mille. The sex theme watch is a heavy hitter, $750,000 easily, you can't even find one, so even if you wanted to buy it, it's like they're really out there and so available. Guys that have them like them and they're keeping them. That last edition Nadal is pretty impressive with the price man. Considering that the standard Nadal is gonna cost you $180,000, this one being white and last edition would cost you $380,000. So he's got an eye for haute horology and definitely has nice piece.
So considering now all the watches that we have discussed and maybe a couple that we haven't seen them. Maybe he has thrown in that drawer the Big Bang from back in 2010. I will go ahead and grade Drake's watch collection easily an 8.5, OK? I would say 8.5 is a fair score just because from 9 to 10 as you've seen on my other videos, those guys got some serious, serious hard-to-get, heavy hitters. But I love Drake's watch collection overall just because I think he's gotta good variety of really nice pieces.
Feel free to comment below how you feel about Drake's watch collection.
Can you identify this watch? Include the brand, model, style, modifications and links in your comments below!