Today we discuss Rolex watches and whether they are worth your money or not.
Rolex is definitely the first brand to be mentioned when it comes to luxury watches. If you ask Joe average on the street for a luxury watch, chances are he'll say Rolex.
So why is it a good thing?
Well, I'm in the same boat as you are, not sure I should buy a Rolex and I'm really not trying to sell you one, I'm really just trying to find out if it's worth it or not. I mean some people argue that you have to be emotionally prepared to buy a Rolex, others compare it to the equivalent of an engagement ring and in this day and age, it has almost become something like a milestone or a marker of success to own a Rolex.
I'm not a watch fanatic, I like high quality things and so I can take an unbiased look at the brand Rolex and see what they actually deliver for the thousands of dollars you have to pay for them.
So before we determine if Rolex is really worth all the hype, let's take a brief look at the history of the brand and how it came to be. In 1905, the two brothers-in-law Hans Wilsdorf and Alfred Davis decided to import Swiss watch movements to England for other jewelers to put into their watches. By 1908, they registered the name Rolex and opened an office in Switzerland.
Six years later, Rolex received the prestigious class A precision certificate by the Kew Observatory. In 1919, the company relocated in its entirety to Switzerland. In 1926, Rolex invented and patented the Oyster which was the first truly waterproof watch case. I then 1940's, Rolex watches became the timepieces of choice for fighter pilots because they were a lot more accurate and precise than what the military issued to them.
It doesn't come as a surprise that a Rolex watch was used to time The Great Escape. During World War II, the Nazis confiscated the highly coveted Rolex watches from the prisoners of war but Hans Wilsdorf, the founder of Rolex, issued new watches for free to prisoners of war if they asked for them.
In an unusual financial move, Wilsdorf decided to put all of his shares into a private charitable trust because that way, he could guarantee that the profits of his growing company, and he knew he was on to something, would go to deserving causes. Interestingly, today, Rolex is still a private charitable trust and some people argue that it's mainly for tax evasion.
I can't really judge what the main motivator is but it definitely saves a lot of taxes. In 1945, Rolex launched the Datejust and the innovation was that it automatically changed the date on the watch. Today, that's not a big deal but back then, it was a big innovation. In 1953, Sir Edmund Hillary wore an Oyster Perpetual when he summited Mount Everest. To commemorate this unusual achievement, Rolex issued the Explorer watch.
A year later, the Rolex GMT Master was introduced for Pan Am pilots so they could keep track of two time zones. In fact, I am wearing a GMT Master right now. In 1962, Sean Connery wore the Rolex Submariner in the Bond movie, Doctor No. Interestingly, Connery would continue to wear the same watch on the next four Bond movies exchanging the strap on them each time. Likewise, Roger Moore and Timothy Dalton wore Rolex watches as Bond, Steve McQueen was also a big fan of the brand and he wore a Submariner in his private life as well as in his movies.
In 1980s, a flashy all gold Rolex became the hallmark of success. In 2018, Forbes ranked Rolex is being the 71st most valubale brand in the world. Why is that? Well, in the modern era, I'd say that a lot of the success tied to Rolex watches can be attributed to their superior marketing.
On the other hand, their watches have changed very little.
It has become a mainstream status symbol with a super high brand recognition that probably exceeds that of any other watch brand. Yes, watch enthusiasts may argue that point and mention different companies like Patek Phillipe or Audemars Piguet, that being said, Joe Average on the street will likely only know Rolex and no other luxury watch brand.
Also, if you take a look at the most expensive watches ever sold at auction, three out of the top ten were Rolex, including the Rolex Daytona from Paul Newman which sold for over 17 million dollars. Today, Rolex produces about 800,000 watches per year with an entry-level price point of $6,000 and an average price point of about $8,000. Now that you know a little bit about the history of Rolex, let's take a look at the watches themselves.
The first thing that really stood out to me is that Rolex stays very true to their brand and they tweak their models ever so slightly throughout the decades. The Datejust, the Submariner, the GMT Master, yes, there are slight changes but throughout the years, you can always recognize it as a Rolex and very little changes so stylistically, it's a very interesting approach. Of course, why would you change the winning team?
On top of that, because there's such few changes, each model has quite a bit of history and substance which helps to maintain the value throughout the years.
In order to determine if Rolex watches are worth it or not, I wanted to personally test them so I got my hands on four of them that I had with me for over two weeks. Honestly, I really didn't want to commit to any of those watches so I bought them vintage from Theo and Harris which is a trusted source online because I knew I could return all the watches in case I didn't like any of them.
That being said, buying vintage Rolex watches is risky because Rolex are one of the most faked watches in the world. Because of that, the fakes can be really really good and only professionals can see if it's a fake or not. Because of that, I wanted to get it from a source that has a reputation to lose, not just from some random eBay store. So what Rolex watches did I get? Well, first of all, a Datejust in stainless steel, 36 millimeter case with with a light silver dial.
Today, a new model retails for $8,200. This is a type of watch you see the Effortless Gent wearing, the Modest Man wearing, He Spoke Style wearing, I think Antonio from Real men Real style has one too. It's a super popular model and has a classic Rolex look. Vintage, you can find them anywhere from $3,500 – 4,500 depending on the condition and the amount of use.
The second Rolex is a GMT Master with a two-tone blue and red bezel and a black contrasting dial. It came with an aftermarket brown leather strap. If you're looking to buy the modern equivalent, the Rolex GMT Master 2 with a stainless steel band, it would retail for $9,250. The third Rolex I got was a little more unusual, it's the model Date and it's originally a woman's watch because it only has a 34 millimeter case width. However, personally, I like smaller watches and that despise big huge watches so I just wanted to give it a try and see what it looked like on my wrist.
Unless you have a small wrist or like smaller watches, it's probably not the right watch for you but it retails for $6,300. Now, last but not least, the fourth Rolex I got was a Submariner Date with a 40 millimeter case which is a little thicker and bolder, there's a black bezel and dial and retails for $8,550.
Even though these four Rolex watches are all vintage, they look extremely similar to the current version you can buy new from the Rolex website or any authorized Rolex dealer. Unless you're a Rolex expert who knows the differences by year or you really care about a specific look, you'll be happy no matter if you buy a new Rolex or an old one.
I mean just look at the difference of this Submariner from the 50s to this modern one, not that big of a difference, right? The same is true for the Datejust. So what about the construction and the materials of a Rolex watch? When you buy a Rolex watch, you get a Rolex watch. Basically that means, it is designed, developed, and produced all in-house, nothing is out sourced.
The casting of the gold, the machining, the crafting, the assembly, the finishing, all of it is done in-house. It includes the movement, the case, the dial, as well as the bracelet. Now, if you think about it, with 800,000 watches produced every year, it is hardly an artisanal product, it is a mass-produced product. Probably, at least partially because of that, it's not considered to be one of the big three watchmakers which are Patek Phillipe, Audemars Piguet, and Vacheron Constantin.
While the big three focuses on handwork and complications, Rolex produces a reliable robust watch. A Rolex has high quality standards and they improve incrementally. From a watchmaker's point of view, they're fairly simple compared to the of the Swiss watchmaking industry but nevertheless, they're a very popular watch.
Also, most new Rolex watches won't set you back hundreds of thousands, just thousands or tens of thousands. So the Rolex I got have the Oyster Perpetual movements, it is a self-winding mechanical movement that is also certified as a chronometer. According to Rolex, these movements are designed to ensure precision, reliability, shock resistance, efficient self-winding, and ease of maintenance.
Now, these are very bold claims to make but in the marketplace, Rolex enjoys the reputation of building tough reliable watches that don't need much maintenance. So it's more than just a marketing gimmick, it is actually true.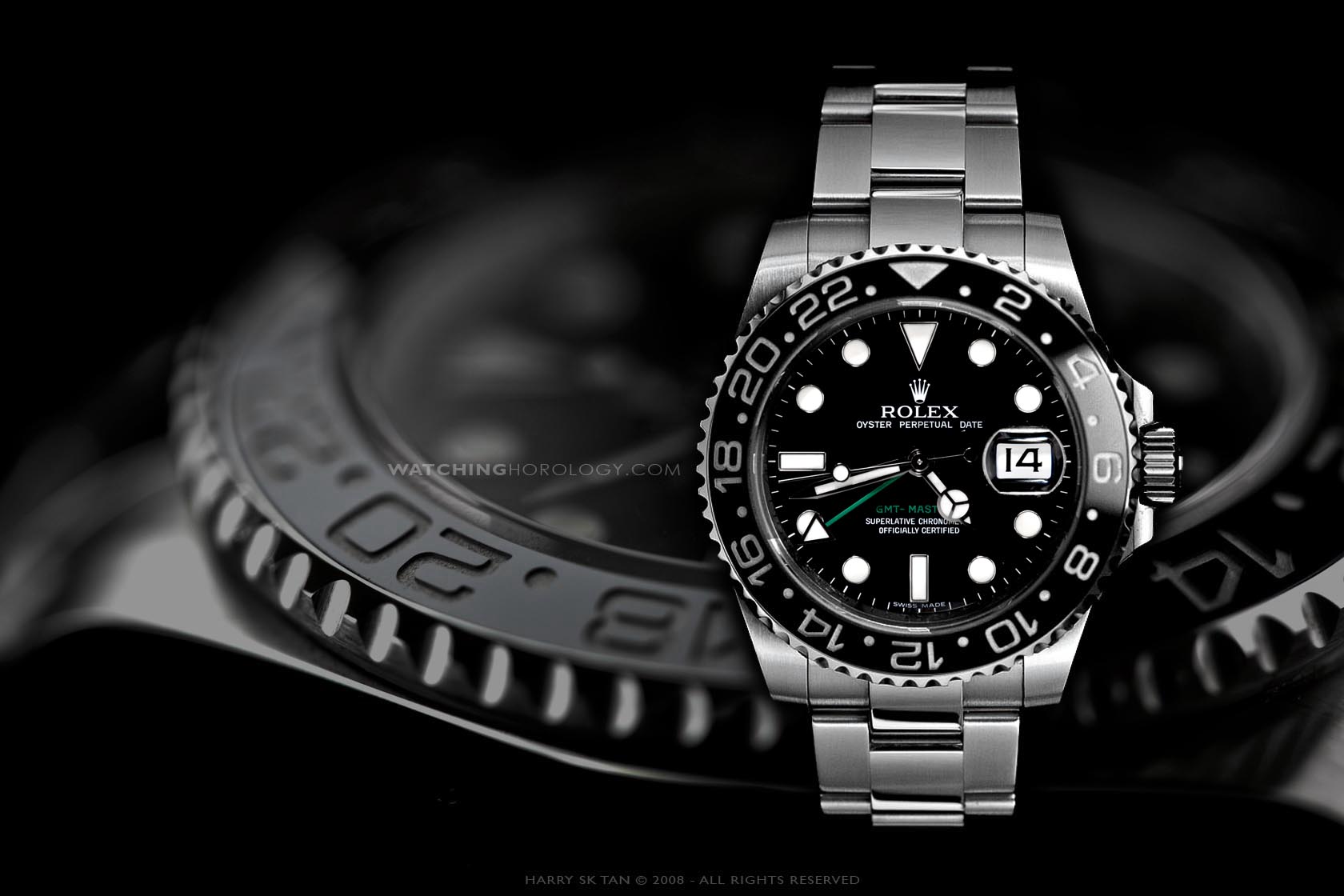 All the watches feature the oyster steel which is a 904 L stainless steel. Rolex uses it for cases as well as the bands. The 904 L stainless steel is so popular because it's very resistant and the finish stays in the same shape even though you use it in harsh conditions. Rolex bands oyster bracelets and even though they are designed to be very robust, they're comfortable, at the same time. Now if you think about it for a moment, stainless steel is an extremely inexpensive material.
The 904 stainless steel cost anywhere between ten and nineteen dollars a pound depending on where you buy it in the world. That's 454 grams for ten to nineteen dollars. Now on the other hand, a pound or 454 grams of fine gold, right now, sell for $19,400, so depending on what price you get on the steel, that gold material is worth a thousand to two thousand dollars more than the stainless steel.
Ironically, in the used marketplace, stainless steel Rolex watches seem to maintain their value much better than gold or gold and steel combination watches. Now, Rolex produces a bunch of different watches including a dress watch range which is called Cellini but it is not really well known but what they're known for is their sports watches or professional watches.
In this day and age, distinction between dress watches and sport or professional watches is often overlooked. Dress watches were just made to keep time and to look very elegant so they were often round, flat, and gold. You'd wear them with suits or maybe your tuxedo or a combination.
At the same time, because of the leather strap, you could also wear it with a slightly more casual outfit. Sports watches or professional watches, on the other hand, were designed to create specific tasks. As I mentioned, one was for pilots, the other one was for divers, and so forth. Because of that, they were built to be a lot more robust and reliable under extreme conditions. As a consequence, sports watches were bulkier, thicker, and just more rugged than their dress watch counterparts.
Because Rolex' most popular models are sports and professional watches, that's what most people wear even with their suits, sometimes their tuxedos or just their general outfits. Personally, I much prefer the look of a dress watch with a formal outfit. Maybe the only man who can break that is James Bond but after all, he's at work.
Of course, in this day and age, dress codes are so relaxed and you can wear whatever you want, whenever you want, but if you're interested in classic men's style, I think the distinction between dress watches and sports and professional watches is still relevant.
So if you look at my wardrobe, it's really more formal than that of 99.999% of men out there. Because of that, a stainless steel Datejust, GMT Master or Submariner is probably not the best choice for me. Instead, a dress watch is probably better. Now that you know a bit about the watches, as well as the history of Rolex, let us answer the big question, is a Rolex watch worth it or not? To start, let's focus on the objective measures of a Rolex watch.
First of all, Rolex are relatively affordable watches. Yes, I said that and please hear me out. Of course, not everyone can drop 6 0r 10 thousand dollars on a watch; it's very expensive and it's a lot of money. However, relatively, to the luxury watch market, it's not all that much. Because of that, it is a safe bet if you want to enter the luxury watch market. If you want to spend less than $6,000, you can go with vintage model Rolex' from trusted sources.
Often, you can spend about half the retail price on a vintage Rolex that looks extremely similar to the latest model. So unlike with cars, where a 1960s model looks very different than current model. With a Rolex watch, that is not the case. Two, Rolex is a known entity in the market with a great track record of quality and consistency. Without a doubt, Rolex has a long standing history.
They're not going to go anywhere in the near future. That being said, if they were to disappear from the surface of the earth, chances are the watch prices would just skyrocket. Their models stay around, they just have slight modifications, and so you know that you're not gonna have an outdated piece that no one wants to have in a few years down the line. Three, the servicing cost of Rolex is relatively low compared to other watches.
Yes, mechanical watches have to be serviced in order to function properly and precisely over time. Now for a regular watch like my 1930s Reverso, my local watchmaker recommends to service it about every three to four years.
That costs me about $250. With a Rolex, you can wait probably five or ten years. My father-in-law has had his watch for over 15 years and he hasn't serviced it yet and it's still going strong. Now if you want your watch to be serviced, an authorized Rolex dealer with original parts probably costs you 500 dollars and more but still, if you break it down to service cost per year, it is lower than many other watches out there. Four, let's talk about investment. If you choose the right Rolex model, you can maintain or increase the value of it even though you wear it. Generally, it's a myth that luxury watches are good investments.
Oftentimes, you can spend 15 grand and it's just worth $3,000 a few years down the road, however, certain models of Rolex watches, Patek Phillipe or Jaeger-LeCoultre have proven to really hold their value or even increase it over time. So for some reason, if you ever needed money quickly, you could always sell your Rolex watch quickly. Now with that being said, you might wonder how is it possible that vintage watches cost half of the retail price yet you recommend to buy a new Rolex because it's a good investment?
Well, it's just like a Steinway and the retail price of a Rolex increases constantly throughout the years.
For example, let's look at the Rolex Submariner no date which is the same as a Mariner but without a date function. In 1957, it cost a hundred and fifty dollars. If you adjust that for inflation, that's about thirteen hundred and sixty-five dollars today. Yet, the actual retail price for the Rolex Submariner no date today is $7,500.
On the other hand, if you look at Rolex Cellini dress watches, they have a starting retail price of over fifteen thousand dollars today yet you can find a lot of those watches for three or four thousand dollars in the used market space. So obviously, that Rolex watch has lost a lot of value, therefore, I would argue, unless you're a professional, watches should not be considered as an investment in the traditional sense.
At the same time, it is not that difficult to figure out which models have historically maintained their value or increased. So if you buy classically styled Rolex pieces, these are watches with a great track record that have shown to maintain or increase their value over time. The Rolex Daytona watch is probably the one that gained the most value over the years and ironically, initially, no one wanted to buy it but today, they're very expensive and if you want to learn more about the watch and its price developments please check out this guide here.
Now on the other hand, if you look at great watches like the Yact-Master, the Air-King, the Explorer, or the Milgauss watch from Rolex, they're all great timepieces yet they don't maintain their value as well as the other five I've mentioned before. Also,if you purely look at the value from a monetary point of view, stainless steel watches from Rolex are the way to go. Now, the two-tone watches in stainless steel and gold are much more subject to fashion and as such, they're less desirable and fetch much lower prices even though the retail price is higher than the stainless steel version.
Now generally speaking, Rolex watches made of all gold or platinum are also not as good in maintaining their value even though the retail price is much much higher than a stainless steel version. That being said, an all gold Rolex Daytona still probably will be a great performer but then it all comes down to specific models whether it's a limited edition and so forth.
A steel Rolex and the five models mentioned, on the other hand, is a very safe bet. No matter what Rolex you get, it always pays to keep all the paperwork, all the boxes, and the original receipts because it will increase the resale value of your watch. For example, you could have bought a new Rolex Submariner model 14060 M in 2010 for $3,800, you could have worn this watch every day and if you decided today that you wanted to sell this watch, they usually go between $6500 and $7000.
So you would still probably almost double your money even though you've worn something for almost a decade. Now, think about pretty much any other thing from clothing, accessories, or cars, there's hardly anything that maintains the value like the right model of a stainless steel Rolex watch.
So from an objective point of view, I would say a Rolex watch is absolutely worth it if you get the stainless steel in the right model. That being said, the objective matters are only one part of something being worth it. When it comes to a Rolex, there are psychological things that play, emotional things, and subjective things. If you're looking at buying a Rolex from a pure investment point of view in a sense that you buy it new, you lock it away in a safe, you don't touch it, you don't wear it, then I think there are other more traditional better investment vehicles for you out there. On the other hand, if you enjoy wearing your Rolex and you enjoy looking at it, then it's definitely a worthwhile investment.
As I mentioned before, consider the rest of your wardrobe in the look, for me personally, I think a Rolex Cellini would be better because I would enjoy it more and would be able to wear it more often with my outfits which are more formal. Finally, let's talk about Rolex as a status symbol.
I believe there are very few things under $10,000 that carry the same weight and status as a Rolex does. It absolutely has a reputation as a status symbol in the business world and outside but it also goes both ways. For example, if you're an intern at a law firm or anywhere else and you show up in your dad's gold Rolex Daytona, that may actually work against you. In that case, it's not worth investing in one if you piss people off.
On the other hand, if you're closing million-dollar deals left and right, a Rolex is a good indicator of success and will probably help you make more business than a Fitbit would. I've talked to quite a few people and they definitely said when their counterpart saw the Rolex on their wrists, they were taken more seriously. Now that being said, always keep in mind that chasing status symbols can be a slippery slope.
A Rolex may work initially in your favor, however, if it turns out that you have a Rolex watch but you drive a 1988 Ford Taurus, people will eventually see through that and then they'll be disappointed in you because they feel tricked and nobody likes to feel tricked and if they feel tricked, they think of you as a fake or maybe insecure or a fraud and then the Rolex is actually hurting you not helping you.
On that note, OJ Simpson supposedly wore a fake Rolex during his murder trial.
So in conclusion, is the Rolex watch worth it? I would say yes, if you enjoy wearing it. If you get a GMT Master, a Datejust, a Daytona, a Submariner, or a Sea-Dweller in stainless steel, if you like the kind of look of it and it goes with your wardrobe.
Do you own a Rolex?
Do you WANT to own a Rolex?
Let us know your thoughts below!