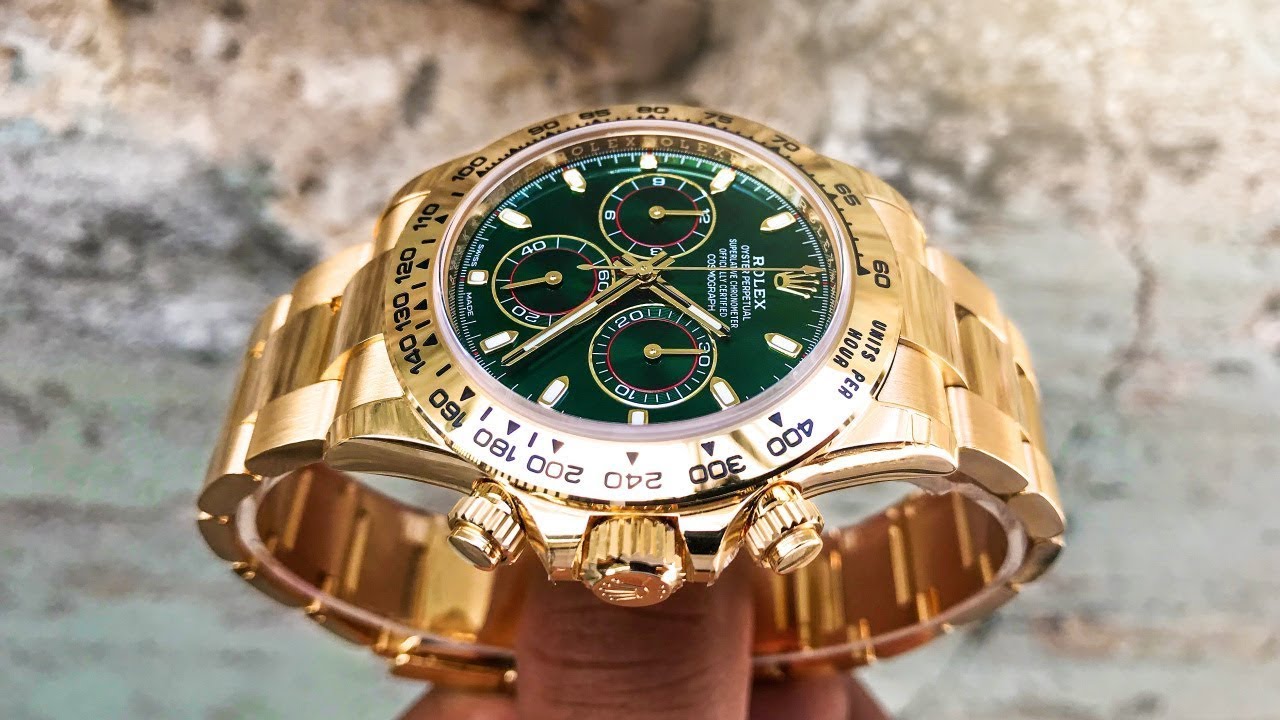 This review is gonna be on the hottest Rolex at the moment. Now, that is the Daytona in yellow gold, reference number 116508 with the emerald green dial.
It's crazy the way that this whole watch market is right now. I mean, this is a watch that maybe two years ago the retailers could not even get rid of. They would just in there at the ADs and nobody was buying them. But like I've said and I've said it before, green is the new blue! And all the green dial watches are the ones that are getting the most premium out of all the colors.
Who would have know? Daytonas sales have been slow overall in my opinion for quite some time, but how about that green dial? Just completely changes the whole look of the watch. It kind of has this whole rrrrr think about it. I mean, prices are crazy. It has a retail of $34,650, but right now Rolex has stopped taking orders on this watch. You can't even allocate one if you wanted. So if you don't have one by now, get ready to pay over retail. How much over retail? A lot over retail! Right now, they're going for easily $55,000 unworn and it's gonna be a special watch. I mean, I guarantee it. Right now the Watch Game is a little bit crazy.
Some of the prices are all over the place. For example, the 5980s are so overly inflated that I myself cannot even justify the prices. But I do see this a bit justifiable at $55,000. It's a special watch and I would guarantee that it's gonna be one of the greatest Rolexes of this time. So they could have slapped a blue dial on it, but instead they chose to do that with the white gold version. The white gold version has the blue dial. Green being the hottest, it's killing it right now. I mean, how about that Day-Date 40 rose with the olive green dial? Also bad ass.
Could you image a Sky-Dweller like this one with a green dial? So I keep saying it over and over, green is the new blue. Something about this green dial on the wrist that for me I think it just looks right because it's got that color that pops. Daytonas have been slow already for quite some time. Don't ask me why. However, the rainbows been killing it and the stainless steel with the ceramic bezel has always been a hitter. I mean, pretty much all stainless steel Daytonas have always been a hitter, but something about that green dial that just did a whole different twist. I personally like it. Don't get me wrong. Right out the gate when it came out, I wasn't really sure about it. Just like the rose gold Day-Date 40 with the olive green, I wasn't sure until I saw it in person. But once I saw it in person, it was a winner for me.
So what's happening with this watches is crazy. Pretty much Rolex releases them right off the back and if you kind of don't have that vision and you don't buy it early on, by the time it picks up and it becomes the hottest watch, it's too late. A year and a half ago, nobody wanted this watch. Although several clients of mine did pick them up just pick them up just because the green dial was stunning. Now, $50k plus. I mean, I wouldn't doubt it if this watch doubles retail in the next 3 to 4 years because that's kind of the play that they're doing. They're releasing it and then they're just not making a lot of them. Right off the back they sit at the retailers, they probably don't want them because Daytonas have been slow.
But I'm telling you, it's gonna be the hottest next watch from Rolex. It's gonna be the one to collect. Daytona historically has always been a hot watch and always been a collector piece, so for a while now I really haven't wanted to wear a Daytona yellow, but now with the whole thing that watches are scaling down a little bit in size, they've gone down maybe a couple of millimeters of what is the norm of what to wear. This green dial really pops. I mean, this is something that if I would be able to get at a good price, even retail, I think I would want one for myself. But at the moment I think I missed the chance of getting one at the retail price, so I probably won't be having one myself for a while. I mean, my friend Amir is actually a visionary because he got one early on and has the white gold with the blue dial. True visionary right there with the watches.
As far as the Watch Game goes, this is definitely a Heavy Piece! Challenge number one is try to find one. Challenge number two is get over it and pay $55,000 for a yellow Daytona that retails for $36k. So it's definitely a heavy hitter and it stands out among the other ones. So feel free to comment below how you feel about this yellow gold Daytona with the emerald green dial.
We want to hear your thoughts! Don't hold back.
Can you identify this watch? Include the brand, model, style, modifications and links in your comments below!