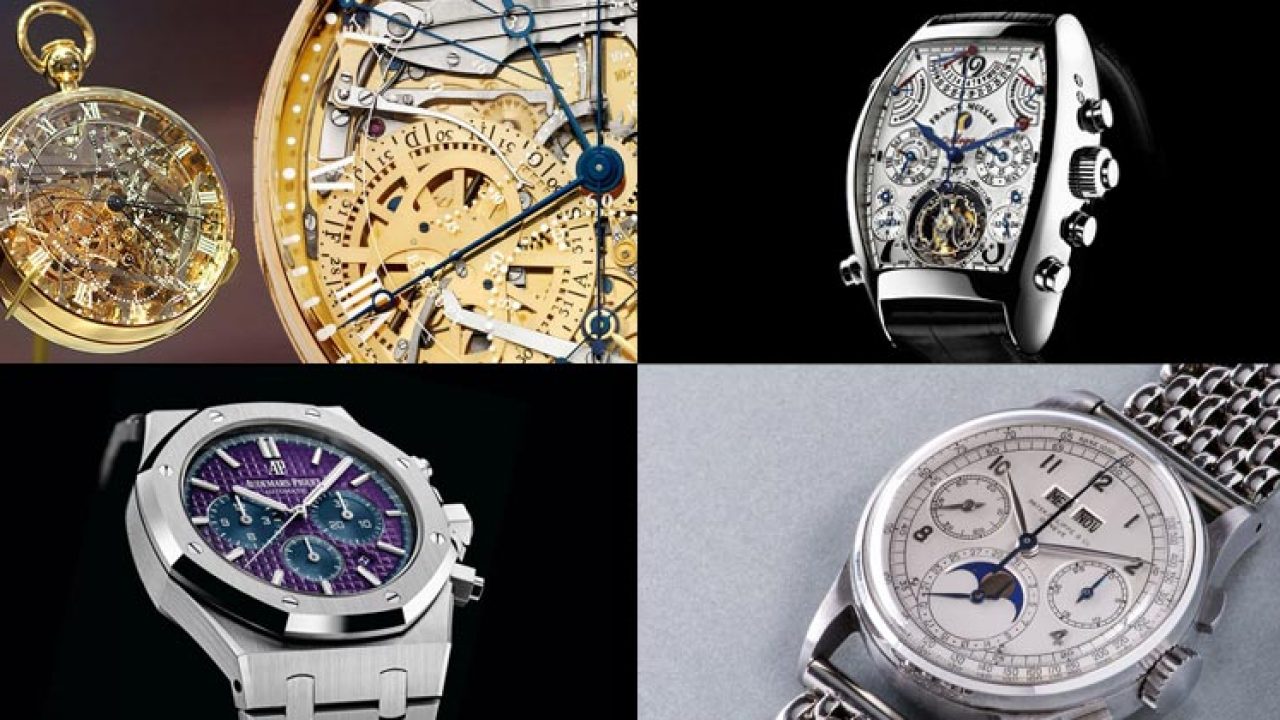 Alright, so we're gonna be going over the list of the top 10 most expensive watches in the world.
Number 10 is the Louis Moinet Meteoris Collection. Now, this watch is $4,600,000 and features a tourbillon movement and fragments, actual fragments from the moon, including others that include meteorites.
Number 9 is the $5 million dollar Big Bang. Features 140 carats of almost flawless diamonds. This is the same watch that Beyonce bought for her husband Jay Z. Pour soul!
Number 8 is the Vacheron Caonstantin 57260. Now, this watch is the most complicated watch ever made with a price tag of $8 million dollars, it features 57 complications and over 2800 components. Took 8 years to develop, which is funny cuz it's $8 million dollars.
Number 7 starts to get into more of the interesting stuff and it's the Patek Philippe reference 1518. This is one out of four ever made. Now, this is true horology history. This is not one of those watches that's expensive just because of fancy gems. This is a true piece of history. It sold for $11,136,642. Now, it's crazy how these numbers happen in these types of auctions, but it was sold originally in Swiss Francs. When you convert it to US, that's how we get that wacky number.
Number 6 on our list is the Jacob & Co Billionaire Watch. Price tag $18,268,000. This is really one that starts to get up there. And let me tell you, for watches that are all in diamonds, this is by far, for me, the most stunning. Does everybody remember when Jacob & Co had those really tacky watches with the four time zones. This is not that type of watch. I don't know where it is around the line, but they really stepped it up. With 260 carats of emerald cut stones, this thing looks out of hand.
I have never seen a watch with so much ice in my entire life.
Number 5 on our list is the Patek Philippe Henry Graves pocket watch, valued at $24 million dollars. This watch was built in 1933 for a banker named Henry Graves and, let me tell you, in the spectrum of most expensive watches in the world, the pocket watch seems always to reign supreme.
Number 4 is the Chopard 201-Carat $25-million-dollar watch.
Now, honestly in my opinion, this just looks like a bunch of vomited diamonds, but nevertheless, it does include 201 carats of flawless, fancy diamonds. I mean, we're talking about some really, rare stones. They're not just cookie cutter type stuff. These are all flawless, fancy-shaped, fancy-colored, all-natural stones.
Number 3 on the list is the Breguet Grande Complication Marie-Antoinette. Now, let me telly you, in my heart, this is number 1! Valued at $30 million dollars, this watch is absolutely stunning and, to me, it's the apex of pocket watch. Started in 1782 by Abraham Louis Breguet, it was finished in 1827 and took 45 years…45 years to make this watch! This to me is the number one.
I mean, I know that the other ones get more expensive because they got the fancy rocks that were pulled out of who knows where, but this for me is true watchmaking and art.
Number 2 is the Fascination by Graff Diamonds. Price tag $40 million dollars. This isn't exactly a timepiece. I mean, for God's sake, you're not buying this watch for the movement. What you're buying is pretty much 152 carats of diamonds that also include a 38-carat, pear-shaped stone that covers the dial and also becomes a ring that's retractable. Unbelievable…That's unbelievable!
Number 1 on our list is the Graff Hallucination. At $55 million dollars, I thought I was hallucinating when I saw that price. This watch features 110 carats of really big and really rare colored stones. The dial is so small, I don't even think you could see the time. It's got a 15-millimeter approximately, I don't know and a battery quartz movement, but Hey, who cares if you're in the rich and famous?!
So there you have the list of the top 10 most expensive watches in the world for 2017.
Lets us know what you think in the comments below!