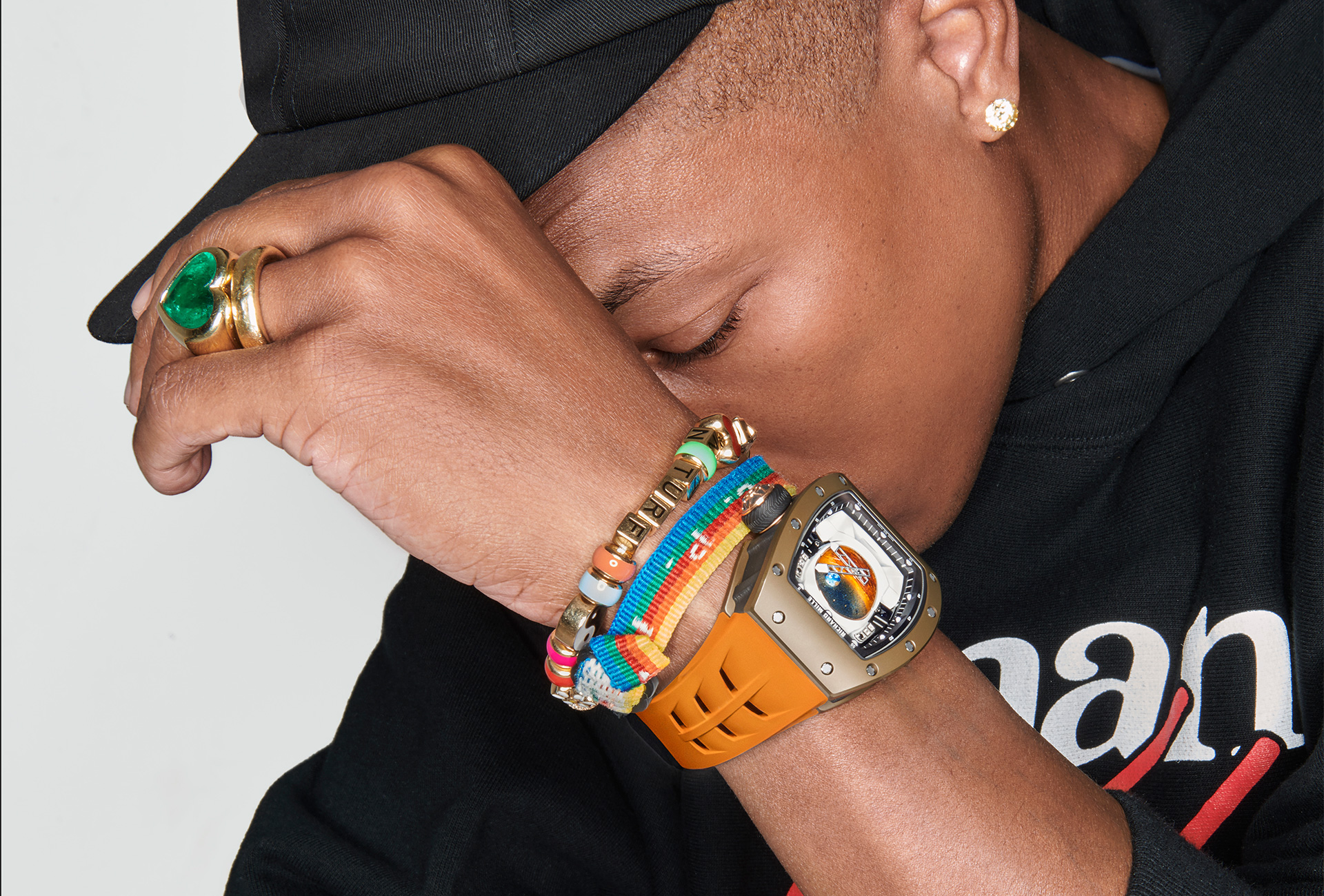 The Richard Mille RM 52-05 is a collaboration between hit-maker and star-track label owner Pharrell Williams.
The interesting thing about this collaboration is that, in my opinion, Pharrell for the last almost 15 years has been an unofficial ambassador of the brand. I mean, he clearly has been wearing Richard Mille for way over 10 years. Every single time you see him, he's wearing a Richard Mille and he has many different Richard Milles to go through. I mean, I have not yet done a review on this collection, but it's gonna be mostly Richard Milles.
So, for me once I finally saw that they made a watch for him, I was already kind of expecting it and it was kind of nice to see that they finally appreciated and made him a form of an ambassador and officially made him a watch. So pretty much the watch is based on the Skull Tourbillon, some thing. That's why it's an RM52. The difference is that instead of it having a skull, it's got the helmet of an astronaut.
Pretty much an astronaut suit, that's pretty much sitting on Mars looking at earth. I think it's a really cool concept. I mean, the only thing that I'm, I mean it doesn't really matter, but the only thing I see that it lack is that the Skull Tourbillon through the teeth you're able to see the entire tourbillon turning. This one being a little bit more intricate and having to involve a little bit more enamel and stuff, you don't really see the tourbillon, but who really cares? I mean, it's a good looking watch and the whole overall execution was clear of what they're were trying to accomplish. Now, it's gonna be a limited run of 30 pieces and with a retail price of $969,000, I mean clearly not gonna be an easy piece to get and it's quite frankly a pricey one.
Case is made of cermet, which has the lightness of titanium, but the hardness of ceramic. You know how Richard Mille is. They always use these exotic materials. The sides of the case are NTPT. It's got the traditional rubber strap with the titanium deployant clasp. I like the watch. Very simple set diamonds on the side of the helmet to make it look like an actual astronaut's helmet, with the cameras and all the flashlights and so on and so forth. I think it was pretty cool. I mean, what else can we expect from Pharrell? I mean the guy is pretty much out of this world. Highly talented and I wouldn't have expected anything else but something overly artistic, such as this watch. Me personally, I don't know if I like those brown cases, but I think they tied it all in together and the watch is really nice. One thing I wanna point out is I feel like on the same week, Richard Mille also dropped a Skull Tourbillon that has like a Mexican wrestler's mask. I don't know how I feel about that watch.
I feel like I don't even know what's going on. It doesn't even look like a mask. So I would definitely take Pharrell's watch over that one. So I'm excited to see this collaboration. I mean, some people don't like it and they're criticizing it because they're saying, "Oh, you know, once the brand starts collaborating with a rapper…," I mean, listen, Pharrell has been way beyond a rapper for the last 15 years. Yes, he did start in rap, but it's pretty safe to safe that Pharrell was not just only a rapper anymore, but he's very big into art and fashion and design. He's got a lot of successful collaborations with other brands, so I feel like this launch was only natural. So who's gonna buy this watch? I mean, I don't know.
I guess some Richard Mille super-fans, some Pharrell super-fans. I mean, it's interesting I was watches an interview on him when he was talking about this whole collaboration and he was actually stating that he was so excited because he actually went from being the client where he bought so many of them to being honored to actually collaborate and make his own watch, which I think was pretty cool. And I'm serious. I'm not lying. I thought he was already kind of like an ambassador, like an unofficial ambassador. It's just because Pharrell was everywhere with a Richard Mille. He's had them all, almost every single model, he has had them.
So it's good to see, I can't wait to finally see the watch in person and of course, anything in this status or scarcity in the market is gonna be a heavy hitter, so we'll have to wait and see how it does in the market and all the hype goes. Interesting enough, he actually had his release party, the official release party for the watch, not even two hundred feet away from here at his partnership restaurant with David Grutman, Swan. It must have been pretty cool.
Let us know your thoughts in the comments below!