Today we're gonna be discussing a little bit about the Aquanaut 5167A. One of my personal favorite entry level watches from the brand Patek Philippe. The Patek Aquanaut is a very slim and comfortable watch. This particular version of the 5167 comes in stainless steel. The case is a 40 millimeter, which tends to be very slim and small for some people's liking, but once you put it on, it's just pure class. This is one of the classiest sports model watches available. As far as the strap comes, it comes in a rubber strap with deployment clasp.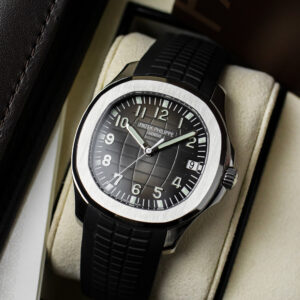 Now, personally I don't really like the strap on this watch and is only simply because I tend to not like watches that bring the strap that hug the case like this one. However, if you mount it on a NATO strap or an aftermarket calf strap, the watch completely changes. I feel as it just completely changes the whole theme of the watch and it's overall just cooler. This particular watch is very subtle and understated. Not recommended for the type with the inferiority complex. I mean, if you're looking to make some noise, then you might want to probably just go with an AP Offshore or something like that.
The Patek Aquanaut 5167 has a retail price of $20,300. Now, you can hope to pick one of these up pre owned anywhere from 16.5 to 18.5, which puts this watch in my opinion in the entry-level Patek Philippe, obviously because of the price. Now, if you notice there's not a lot of depreciation there from new to pre owned, but imagine, it's a Patek. They hold their value.
With the Aquanaut for me personally, I would like to stay in the 40 millimeters, in either stainless steel or gold; or you can also go with the larger more expensive Dual Time, which is 40.8 millimeters Now, I would really stay away from some of the older ones. Although they're less money, they're also way smaller and I just don't like the way they sit on my wrist. The Patek Philippe Aquanaut is an everyday Patek. It has everything you need. It's automatic. IT has a date function. It has a clear caseback that always reveals the stunning Patek movement. It comes with a gray dial with Arabic numerals, very easy to read. The case comes with a contrasting textures of satin and polish and it's a little bit thin, very comfortable to wear. At times you forget it's even there. For me, this is why I call it the everyday Patek. It's very comfortable, affordable, and it's the perfect jeans-and-t-shirt type of watch. I mean, it can be also dressed up a bit with perhaps maybe like a calf strap, as I had mentioned earlier.
After wearing it a few days, it really grew on me. At first I thought, well you know, it might be a little bit too small and too much of a conservative look on me and as far as the Watch Game goes, I thought maybe it just wasn't hard enough. But after wearing it a few days on a NATO strap, a black NATO strap to be exact, it really grew on me. For me it's something different and exquisite, something out of the ordinary. It's a watch guy's watch. Now, my ideal scenario for this watch would be this same size case in a rose gold version with a beige calf strap. That to me would be the ideal scenario.
Can you identify this watch? Include the brand, model, style, modifications and links in your comments below!