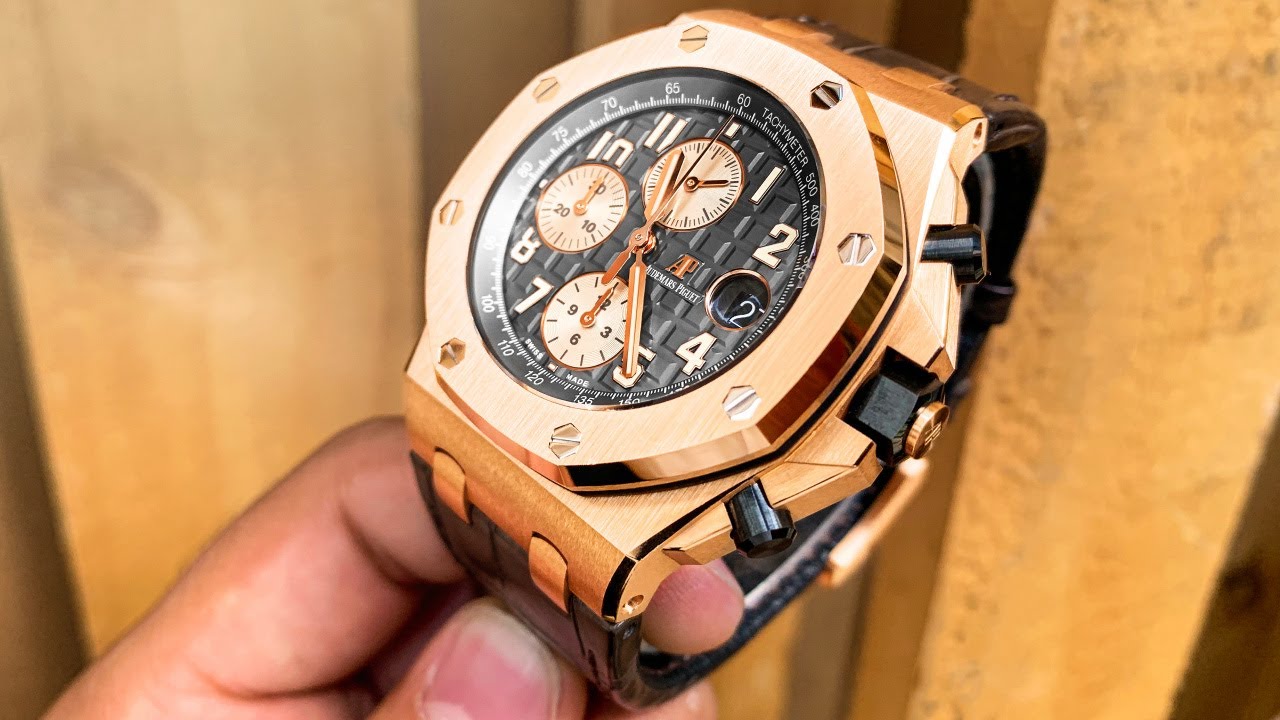 I'm gonna be doing a review on the AP 42mm Offshore in rose gold. It's pretty much the Brick on the strap, but this version is the new one with the gray dial.
AP released previously a new version of their Offshore lineup, which includes both what they call "The Brick," which is this watch on a bracelet and the strap version. Now, it used to have a rose gold face with black sub-dials. Nice watch, but I wasn't crazy about the dial, but it featured the new ceramic pushers and crown and a clear caseback. Good looking watch. Very popular in the industry. I mean, I think it sold a lot. I would say that the brick with the strap in leather, which I liked it better in rubber, was probably one of my favorite AP Offshores in the gold lineup. I mean, I liked it better than the 44 millimeter case with the ceramic bezel, just because the size was perfect and the rose gold bezel, I don't know, I just felt it was more complete. But then they came out with the latest version, which is the same case, same specs as far as movement, clear caseback, crown, all that.
Same layout, same updated dial, but in a new color and it's got this like gray slate color on it. Let me tell you. It's stunning! When I saw it originally in the photos, it looked good. I saw it one day on a window, an AP boutique with the all gold bracelet version, it was nice. I wasn't sure if I was like wow you know, but it was nice. But then, I've had the chance now to wear the one with the strap and let me tell you, I think they nailed it this time. You see, in the previous version where it has the rose dial with the black alligator strap with the white stitching, I'm not a fan about it man. I'm not feeling it that much. I feel like it looks nicer with the black rubber strap, but this one, something about this contrast man.
You see, the alligator strap on this watch is like not gray, but it's not brown. It's like the perfect color. I guess like a pewter of sorts, I don't know, but I feel like the whole look completely changed and I'm glad to finally be able to try it. One thing that I wanna mention is that just like the previous version with the rose dial, I feel like there is I would say a ratio of 8 to 10 of the all-gold bracelet version for every one or two of the strap version. Don't ask me why, but it's not easy to get the previous brick on the strap. So for the Royal Oak Offshore in rose gold now with this gray dial, again not a surprise that it took so long. I think this watch has been out already for almost about a year and a half. I'm not surprised that it took so long for me to finally be able to get one pre-owned at a decent price in my hands. I love it. Some of the things I'm thinking about is how would it look with the gray rubber strap, kind of like the one that's on the Schumacher, that color.
I'm not sure if it would be too gray though, because although the dial is gray, it's not as gray as you think. This is gonna sound kind of weird, but it's almost like if the glass has a mild, real mild yellow tint to it. I've been looking at it for several days and I've been trying to figure that out, but I know it's not yellow guys, but I'm just saying it gives that effect. Maybe just because of all the rose accents inside and the yellowing of the lume and stuff like that, that gives it that impression, but loved the strap. I think AP nailed it on this watch and I'm glad to finally try one.
Now, prices. There's not many in the market. There's not a lot of discount on this watch. I would say if you're trying to pick one up, retail is $38,000 and some change. If you're going to pick one up preowned, you could probably spend easily 35, 36, being that the previous version is right now pretty stable at 33.5, 34, maybe 34.5. There's not a lot of them out there. But it's a good looking watch, so if you're looking to pick one up, I mean those are the prices you're gonna be in and you gotta kind of pay up if you wanna. I mean, there's not many to choose. As far as the Watch Game goes, I mean it's a Heavy Hitter. It's rose gold, it's got size, it's AP. You don't see a lot of them, so I feel like that helps too. Great watch in my opinion for somebody that wants a heavy gold piece to wear daily.
Yes, it's an expensive daily. You're wearing a $40,000 watch, but I guess I would rather wear this daily than a Schumacher, you know? It's something that it looks elegant and sporty all at the same time, so I'm actually very excited about this watch and I can tell you right now, I definitely like it better than the previous version.
So feel free to comment below how you feel about the new Royal Oak Offshore in rose gold or the Brick on the strap!
Can you identify this watch? Include the brand, model, style, modifications and links in your comments below!